As a self-proclaimed, type-A perfectionist, I have learned through the years that we can all be our own worst enemies. Imagine how 2022 might look if we choose to give ourselves grace and focus on all the little wins that accumulate over time, rather than fixating on perfectly achieving the biggest, most far-reaching goals with the snap of a finger.
I say let's ditch the "hustle" mindset and focus on progress, not perfection this year. After all, it's the journey – not the destination – that truly matters, right? Let's see what our lives might look like at 11:59 p.m. on December 31, 2022, if we embrace some of the following advice:
Learn to say "NO." It's a complete sentence, all by itself. It doesn't require an explanation. It just requires you to say it. Is it time for you to say "no" to activities, commitments and people that weigh you down?
Learn to let go of things that you no longer need, use or love (cue the music from "Frozen" please). Life happens, you change, your interests change, the demands on your time change – don't wallow in guilt and inaction. Say goodbye to the big and not-so-big things that no longer serve you.
Learn to embrace the idea of baby steps, even if you end up taking two steps forward and one step backward sometimes. That's okay.
Learn to rest, relax and recharge your batteries. Let's abandon the idea that we are superhuman and need to be on-call 24/7.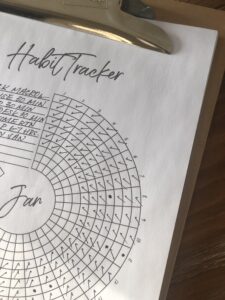 In the spirit of celebrating small wins, I've broken out my habit tracker for 2022. Ever heard of this great resource? Grab a copy of "Atomic Habits" if you'd like to learn more. I've started the year off outlining some personal and business goals and mixed in some fun goals just for the month of January (baby steps, of course). This is a great way for me to plan and mark my progress.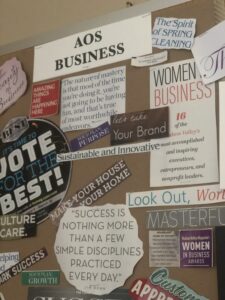 This weekend, I'll be finalizing my 2022 vision board. This too, is an amazing (and fun) concept to research if you haven't created one before. I'm excited to "see" where my vision will take me with some focus.
Where do you see yourself going this year?
Wishing you a wonderfully, imperfect 2022!
Colleen
PS – What's on my bookshelf this month?
"Atomic Habits" by James Clear: I'm Zooming with my National Associations of Productivity & Organizing (NAPO) professionals to discuss this one as our January book club selection.
"The Compound Effect: Jumpstart Your Income, Your Life, Your Success" by Darren Hardy. A classic that I am re-reading.
"Why We Sleep: Unlocking the Power of Sleep and Dreams" by Matthew Walker.  We can all use a little more sleep.